Contact Lenses
Contact lenses are a lighter, fuss-free way to achieve better vision. Whilst glasses can fog up, be misplaced or broken, contact lenses remain in your eyes all day. This frees you up to fully participate in sports, enjoy your leisure time, or get through any weather condition without complications.
Having a negative experience in the past shouldn't deter you from trying contact lenses! Here at Boatmans Optical, we keep up to date with the latest contact lens developments. Lens technology has come a long way and is now suited for more varied lifestyles and vision. With a specialised consultation and our clinical expertise, we are confident that we can help you find the right contact lenses for you.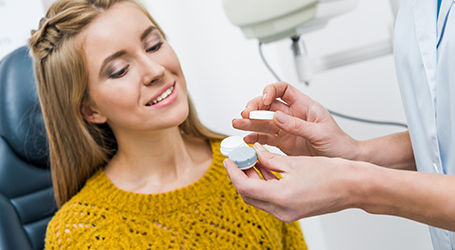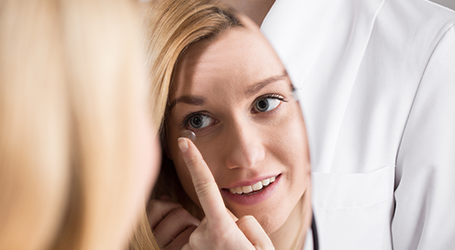 High-quality consultations as standard
You may be wondering what a contact lens consultation involves. Whether you're a new or existing contact lens wearer, a qualified optometrist will ask you some questions to discover your individual needs, lifestyle, and expectations and take measurements so we can advise you on what kind of contact lenses would fit and suit you best.
We will then order your contact lenses in your prescription, and when they arrive, we'll insert them in your eyes so you can see how well you can see and how they feel. Once you're happy, we'll show you how to insert and remove the lenses. Taking the time to give bespoke advice on the best way to use and care for your lenses is part of our customer-focused service. We know you may have questions after your consultation, so we always arrange a follow-up appointment to review how you're getting on with your lenses and answer any of your queries.
Contact lens free trial
We want you to feel comfortable and confident before committing to buying and wearing contact lenses, which is why we offer a free contact lens trial after your consultation. This allows you to go away and try wearing your lenses for a few days so you can get a realistic idea of what it would be like to wear them.
Different types of contact lenses
We appreciate that all our customers have different needs. As an independent practice, we have the freedom to stock contact lenses from the leading manufacturers – including Alcon, Bausch & Lomb, Coopervision, and Johnson and Johnson – so you know quality is assured.
We provide:
Soft and RGP (rigid gas permeable) lenses
Dailies
2 weeklies
Monthly lenses
Toric lenses for astigmatism
Lenses for high prescriptions
Lenses for complicated fits, including keratoconus
Contact lenses for children
Contact lenses aren't just for adults – we have fitted hundreds of children of all ages with them too where appropriate. We find that many children become quickly accustomed to the responsibility that wearing lenses entails and embrace it with open arms.
MiSight contact lenses for children
We also offer specialist contact lenses for children to help slow down the progression of myopia, aka, short-sightedness. This is when an individual has trouble seeing in the distance, with objects appearing blurred.
Myopia is a growing epidemic, with 1 in 3 people in the UK that have it, and half the world's population set to be myopic by 2050. This hasn't been helped by the fact that children now spend more time in front of a screen, especially since the start of the Covid-19 pandemic. Myopia is also more prevalent in children if one or both parents have it and can get worse as they get older, along with increasing the risk of developing other serious eye conditions like glaucoma and retinal detachments.
Luckily, revolutionary contact lenses have been developed to manage myopia effectively. We offer MiSight soft 1-day contact lenses to correct your child's vision and slow down myopia progression. A three-year clinical study showed that these lenses slowed the rate of myopia progression by over 50%. As MiSight are daily disposable lenses, we have found that children tend to adapt to wearing them easily.
If you're considering trying contact lenses or want to upgrade, please contact us for more information.