To provide you with a fully comprehensive eye exam, we believe it's vital to include advanced retinal scanning too. Your eyes are a window to your health, so we consider this an important step in accurately assessing them.
This is why we have invested in the latest hospital grade retinal imaging technology in practice – OptomapⓇ ultra-widefield imaging and the OCT (Optical Coherence Tomography) scan. We are currently one of the only practices in the Chelmsford area to offer these advanced eye scans.
OptomapⓇ retinal scan
The OptomapⓇ was founded by Douglas Anderson after his 5-year-old son suffered from a retinal detachment which was detected too late. As a result, he went blind in one eye. If the OptomapⓇ had existed then, Leif's detached retina could have been detected and treated in time to save his vision. This inspired Douglas to create a digital retinal imaging device that could show the retina at the back of the eye easily.
Traditional retinal photography can only show a small part of the retina – 45 degrees, or 15% of the back of your eye. With the OptomapⓇ ultra-widefield imaging scan, our optometrist can examine a 200-degree view, which is approximately 85%. This allows them to check for early signs of diseases in the periphery of your retina too, which may not be detected if using traditional methods.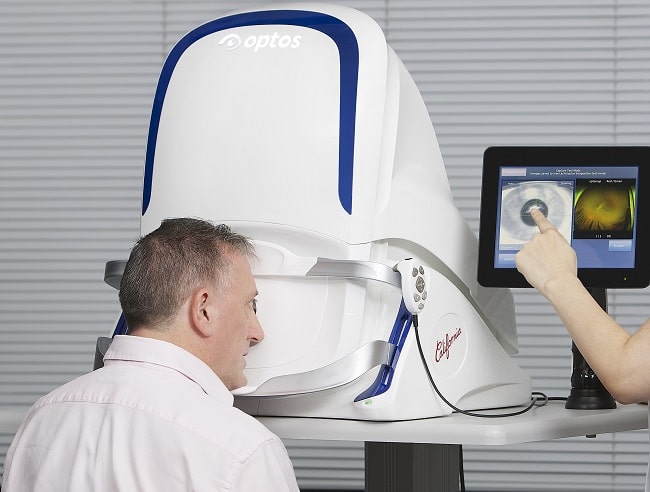 Not only does this advanced scan facilitate early detection of sight threatening eye diseases like glaucoma, or retinal detachments, but it can also flag signs of serious conditions like cancer and cardiovascular disease.
The OptomapⓇ scan is quick, easy, and non-invasive. All you have to do is look into the machine one eye at a time, with image capture only taking half a second. It can also be done at a distance so there is no need for the optometrist to be within very close proximity to you. The scan results are instant, enabling our optometrist to show you a 3D animated image and explain their findings straight away for your peace of mind.
OCT 3D scan
An OCT scan also gives our optometrists an in-depth view of your eye health using light waves, in the same way that an ultrasound uses sound waves, to take over 100 different images. These are digitally combined to provide a 3D image showing the fine details of the different retinal layers. This means we can literally see beneath the surface by peeling back these layers in the image. Again, this is great for early detection of eye diseases such as age-related macular degeneration, diabetic retinopathy, and flashes and floaters.
Like the OptomapⓇ, the OCT scan is quick, easy and non-invasive. The cross-sectional images of your retina are created instantly, so there is no waiting around for results.
Protect your vision
Both these retinal scans can detect even the most minute changes in your eyes, indicating early signs of sight threatening eye diseases which have no obvious symptoms otherwise. Early detection allows our optometrists to diagnose conditions and recommend treatment straight away.
Many conditions that can be detected with both these scans can cause partial or complete sight loss if left undetected and untreated, so having them done gives you a better chance of successfully preserving and protecting your vision from further damage.
We consider the Optomap and OCT scans equally important in assessing your eye health, which is why we offer both of them at one price as part of our advanced eye exam. Each scan result will be kept on your patient record so that the next time you have an advanced eye exam, the optometrist can compare current and previous images to track any changes in your eyes.
FAQ
Are there any side effects of having advanced retinal scans?
There have been millions of scans that have taken place over the last couple of decades, with no reported side effects for either type of scan.
Is the Optomap and OCT safe for children?
We encourage children of all ages to have advanced retinal scanning done as part of their routine eye exams – it is definitely safe and suitable for them, as long as they are comfortable looking into the machine at the light for a second or two!
How often should I have the Optomap and OCT scans?
Generally speaking, we recommend having an advanced eye examination, which includes both of these scans, every time you are due for your routine visit. Your optometrist will advise you on the frequency if they decide otherwise.
Book a scan
Why not book your advanced eye exam in for your peace of mind? If you have any other questions about either of our scans, feel free to contact our friendly team today.